Group Vision
We create new value for real estate.
Mizuho Realty One, Mizuho Real Estate Management and Mizuho REIT Management, aspire to be a "real estate asset management company creating added value," responding to the various needs of domestic and international investors pertaining to real estate through strategic planning and execution capabilities as well as providing added value in real estate with high technical capabilities by leveraging the close collaborative structure with Mizuho Financial Group in the combined fields of real estate and finance.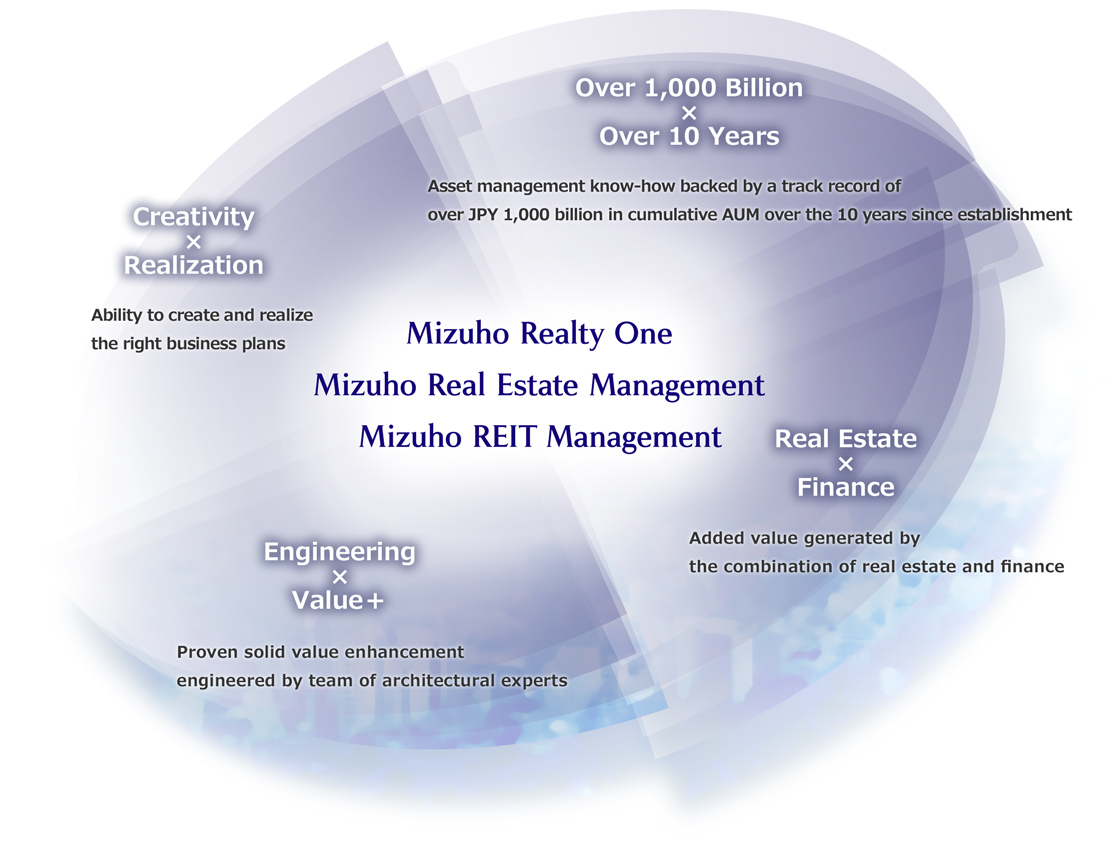 Group Businesses
Asset Management Business
We provide new investment opportunities, origination and creative asset management services for maximizing investment performance by leveraging the know-how and experience we have accumulated in various asset types, investment forms, developments, etc.
We also provide facility management services to maximize asset value from technical aspects by utilizing the expertise of our team that includes members with career backgrounds at general contractors and architect offices and our accumulated database of over 10,000 construction work cases.
REIT Business
We manage the assets of the listed REIT, One REIT, and the private REIT, One Private REIT, that place emphasis on "stability" and "growth" over the medium to long term by leveraging the know-how we have accumulated in both the real estate and financial sectors to date and the various support from Mizuho Trust & Banking.
Group Companies
We have corporate operations centralized at Mizuho Realty One, while Mizuho Real Estate Management manages private funds and Mizuho REIT Management manages the listed REIT, One REIT, and the private REIT, One Private REIT, establishing the optimal Group management structure for information disclosure to investors.